Rabbi Yisrael Meir HaCohen of Radin, is more popularly remembered by the name of his famous sefer (book)- Chofetz Chaim. The Chofetz Chaim was one of the great leaders of European (and world) Jewry before the Holocaust. He was a prolific writer of works of halacha, authoring books on many topics. He often wrote on topics that he felt were important for the people of his generation.
His books include: "Ahavath Chesed" about the mitzva of chesed.
"Chofetz Chaim" about the laws of lashon hara (speaking about other people).
The Chofetz Chaim wrote a book for Jews emigrating to America, consisting of a summary of the basic halachot necessary, and encouraging them to continue keeping Shabbat and the rest of the mitzvot.
His most famous work is the six volume "Mishna Brura", a book of halacha, studied today by Jews from all origins, and followed by most Jews of European origin. He is remembered for being a tzaddik (righteous), concerned with the well being of other people and for maintaining high standards of proper speech.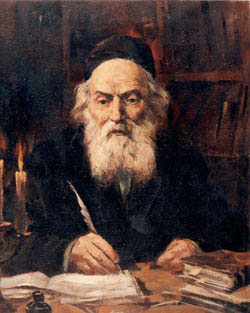 Illustration by Theodor Tolby, courtesy of AllArt Direct